Nordic Breakfast Seminar 2019
Customers and business partners are welcome to join the Breakfast Seminar 2019.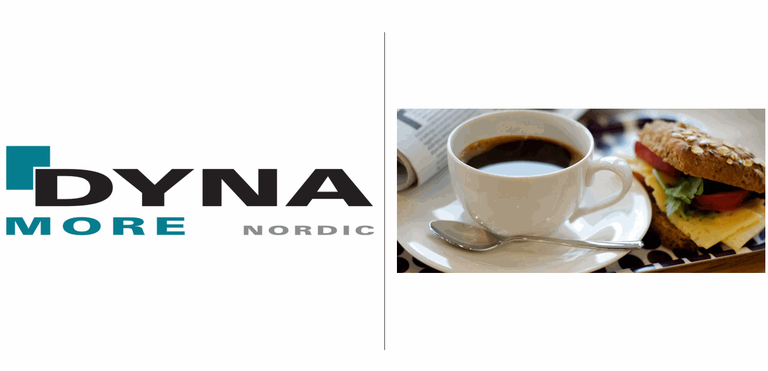 The Breakfast Seminar 2019 tour will visit Jönköping, Göteborg and Luleå. Join us in one of the cities, grab some coffee/tea and a snack,
have a chat with some of DYNAmore Nordic's engineers and listen to interesting presentations.
Customers and Business Partners are welcome to register to the seminar, which is free of charge.
Topics
- News and features in LS-DYNA Release R11
- State of art modelleing in LS-DYNA in specfic topics/applications.
SCHEDULE

Jönköping

Göteborg

Luleå

Date
October 16, 2019
October 18, 2019
November 12, 2019

07:30 - 08:00

08:00 - 09:00

09:00 - 09:45

Breakfast

Recent developments in LS-DYNA,

DYNAmore Nordic

State of the art modelling of plastics

in LS-DYNA. Dr. André Haufe


Breakfast

Recent developments in LS-DYNA,

DYNAmore Nordic

State of the art modelling of plastics

in LS-DYNA. Dr. André Haufe

Breakfast

Recent developments in LS-DYNA,

DYNAmore Nordic

State of the art modelling of thermo-mechanical coupling

in LS-DYNA. Dr. Thomas Klöppel

Location
First Hotell Jönköping
Lindholmen Conference Center
Clarion Hotel Sense

Registration

REGISTER

to Jönköping, latest October 1

REGISTER

to Göteborg, latest October 2

REGISTER

to Luleå, latest October 28